WOLF'S PICK OF THE MONTH
Often there are books that I read that I find are just so amazing, books that make you go "Wow, that book rocked!! They're the books that you don't want to end.
Well, this page is for those books that I think are wonderfully amazing!!! Each month I'll pick a new Pick of the Month, but the mystery book will remain a secret untill the new issue comes out!
SEPTEMBER'S PICK: Forever... A Novel of Good and Evil, Love and Hope. by Jude Deveraux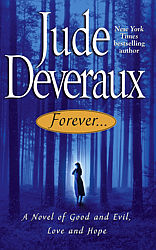 In Forever..., we meet Darci T. Munroe, a woman capable of phsycic abilities beyond even her understanding. We are also introduced to Adam Montgomery, a surly millionaire who hides his own secret past. When the two come together to infiltrate a coven of witches and attempt to gain access to an object that is said to be magical, there is no telling what can happen!
An intelligent book that was treated unfairly by other critics and reviewers, it's funny, light hearted and a little dark. One of the major qualms people had with this book was that it was by a romance author but it has no sex in it. What's wrong with that? Why can't an author try something new? And now, there's a sequel "Forever and Always" that I'll be sure to pick up!
Contrary to popular belief, this book IS worth the read! Pick it up for a fun time!
Wolf